PREFUSE 73 / BATTLES
In the post this morning, package from the good people at Warp with the new Prefuse 73 mini album,
Security Screenings
, and the first Warp release for the Battles,
EP C / B EP
.
Prefuse 73: Security Screenings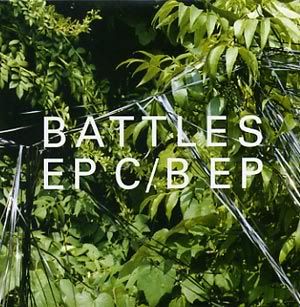 Battles: EP C / B EP
Security Screenings
is the follow-up to Scott's brilliant
Surrounded By Silence
and
Prefuse 73 Reads The Books
EP recorded with... er... The Books. This new mini album, which features the much talked about collab with Four Tet's Kieran Hebden, was apparently inspired by 'the disillusioning experiences encountered in travelling while promoting [Scott's] last smash'. Although, as the press release continues,
Security Screenings
'channeled [Scott's] frustration and anger into something quite spectacular', it sounds somehow rather more peaceful in part than previous Prefuse stuff, not quite so mashed up as his early stuff. Instead, this seems to sit somewhere between Prefuse and Savath & Savalas. First impression is rather good.
There is quite a bit of hype around the Battles. The band, who have until now only released a couple of EPs, have only released a couple of EPs which are compiled on the double EP
EP C / B EP
. 'As Battles explain, their sound is "somewhere between electronic and rock"'. Too full on to be labelled post-rock, thank God for that!