ALICE IN COLTRANE WONDERLAND
In the last couple of years, and partly thanks to Andrew, who is well up on that kind of things, I've developed an unhealthy obsession about Alice Coltrane, or at least, about her work.
Although Andrew is only partly to blame, as I first got connected to her thanks to a lengthy and very interesting interview published in issue 218 of The Wire (April 2002), he has since provide me with a mine of information regarding her work and that of John Coltrane. I'd managed to put my hands on the three Warner albums that were reissued about the time of the interview,
Radha-Krsna Nama Sankirtana
,
Transcendence
and
Transfiguration
, which I really liked, but I have since stocked up on some of her best albums, as recommended by him, including
Ptah The El Daoud
and
Universal Conciousness
, both recorded for Impulse!.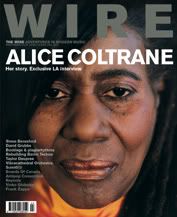 The Wire issue 218 - April 2002
I recently got a voucher to use on Amazon, and thought I would now get
Journey In Satchidananda
.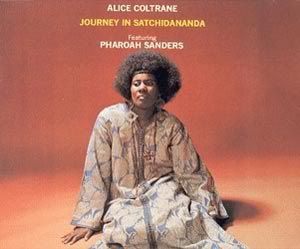 Alice Coltrane: Journey In Satchidananda
.
I am also very keen on getting
A Monastic Trio
(which I have as MP3s), and would love to put my hands on
Huntington Ashram Monastery
, but I think this one's not available on CD. I also need to get some more John Coltrane, and start investigating Pharoah Sanders too. Andrew actually did a wonderful CD of what he called "space jazz" for me a while ago. Here's the tracklisting:
1. HERBIE HANCOCK
Rain Dance
2. MARCUS BELGRAVE
Space Odyssey
3. ARCHIE SHEPP
A Prayer
4. PHAROAH SANDERS
Astral Travelling
5. LARRY YOUNG
Khalid Of Space Pt. 2 - Welcome
6. ALICE COLTRANE
Journey In Satchidananda / Galaxy In Satchidananda
7. JOE HENDERSON FEAT. ALICE COLTRANE
Earth
8. SUN RA
There Are Other Worlds (They Have Not Told You)
Labels: Alice Coltrane