PEPPERMINT AND BLISTERS
Some months ago landed a rather nicely packaged 12" from one mysterious
Conrad Newholmes
on my desk. The sender had gone through a lot of effort to get noticed. The package surely stood out from the stream of dull jiffy bags and appealed to my rather anally retentive personality so much that I still have it sitting on a shelf above my desk. So, the first hurdle (grabbing my attention) had been negotiated without problem, but a nice package doesn't necessarily mean that there's a good record inside. In fact, to be honest, it is often the sign that the record is NOT the least interesting. Yet, in this occasion…
THE original package with the new CD album
No need to say that the name was not familiar, but this self-titled debut EP proved to be a rather nice and clever piece of instrumental hip-hop which would have fitted quite well on a label such as Ninja Tune (
here's my review of it, dated July 2005
). At the time, Conrad (I don't actually know his real name, although he's previously released music under the name Smaze) mentioned that an album was in the making, and, on the basis of the EP, I was very keen to hear more.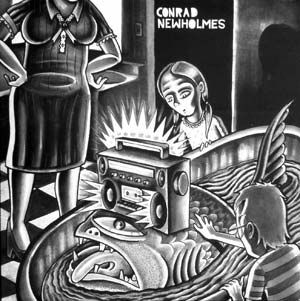 Conrad Newholmes Conrad Newholmes (Snakebird Records)
This morning in the post, there was a small package with a familiar handwriting on it, and
Peppermint Styles
(
Couchblip!
), the album, in it. And it is a cool little corker. Conrad originally mentioned that the album would feature a string of vocalists, but nothing turned out as planned and
Peppermint Styles
is largely instrumental, with a good dose of vocal samples scattered all over. The result is imo very impressive. The album builds on the EP but appears more focussed and laidback.
Another album that arrived today is the new(ish) Hope Blister (4AD). Hope Blister is a project led by former 4AD main man Ivo Watts-Russel, who was also responsible for three beautiful albums as This Mortal Coil between 1984 and 1991. The first Hope Blister album,
...Smile Is Ok
(1998) was very laidback and acoustic, and made up entirely of covers (Slowdive, David Sylvian, Heidi Berry, Brian Eno...), and was followed by a very limited mail-order only remix album,
Underarms
. The album now finally benefits of a full release and comes bundled with
Sideways
, itself comprising 6 reworking created form Underams by Markus Guentner.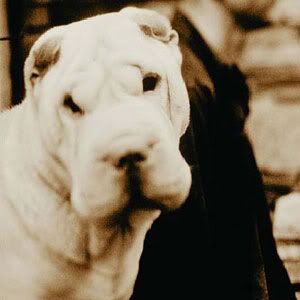 The Hope Blister Underarms / Sideways - Doesn't this image make you want to go "aaaawwwwwww"?
I was expecting
Underams
to be in a similar vein to
...Smile Is Ok
, but it is in fact very droney and numb, and
Sideways
is, from the first couple of tracks heard so far, similar.