ARTIFICIAL INTELLIGENCE AND OTHER SEQUENCES
I can't believe it's been a week already since my last post. The forthcoming issue of themilkfactory has been keeping me busy, hence the lack of activity here.
Today is WFH day, and I decided to continue exploring my record collection and dig out some old favourites. With work on the office becoming more of a reality, I should hopefully do even more of that once the room's been done and all my CDs taken out of boxes and shelved. I can't say I am looking forward to unpacking them, but at least, I'll be in the room playing some great tunes when I do that. It should be more fun than the packing stage.
AROVANE - Atol Scrap (Din, 1999)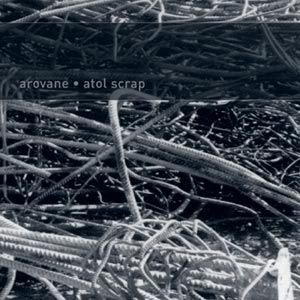 First to get an airing this morning was the wonderful debut from Germany's Uwe Zahn. Combining stunning melodies and incredibly complex soundscapes, this album is, imo, Zahn's best by a long shot. His subsequent two,
Tides
and
Lillies
are interesting enough, but I don't think he's manage to recreate the magical scenaries of
Atol Scrap
SAVATH & SAVALAS - Folk Songs For Trains, Trees & Honey (Warp Records, 2000)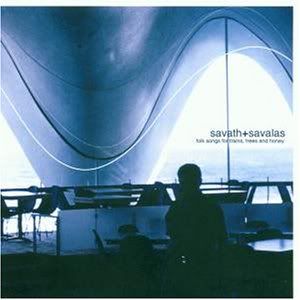 The first Scott Herren album I owned I think. I remember noticing the cover well before I actually bought the album (in fact, well before it was released by Warp). Originally released on the excellent Hefty, this album displays some of the elements of what Herren would do with Prefuse 73, but this album is generally more gentle.
BIOSPHERE - Microgravity (Origo Sound, 1991)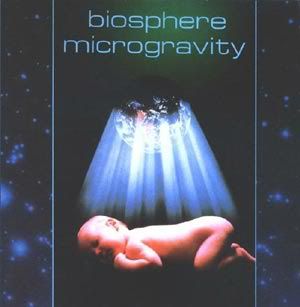 This album was released in the UK by Apollo/R&S, but the original version was published on Norwegian label Origo. I used to really like the band Geir Jenssen was in before going to form Bleep and then Biopshere. The band, Bel Canto, sounded a bit like an electronic version of the Cocteau Twins, and listening the their wonderful two first albums,
White-Out Conditions
and
Birds Of Passage
, both featuring Jenssen on keyboards, some of the elements that have become synonymous with the Biosphere sound were already there.
I have always been a fan of his work as Biosphere, and this debut album sounded like very little else around. At the time (I was young), I put that on the fact that he was from Norway and wasn't possibly up to date with what was going on in the rest of Europe. I know better know, but this album (which is perhaps his least purely ambient album) has some very nice tunes, and fifteen years on, still sounds bloody fresh.
HIGHER INTELLIGENCE AGENCY / BIOSPHERE - Polar Sequences (Beyond, 1996)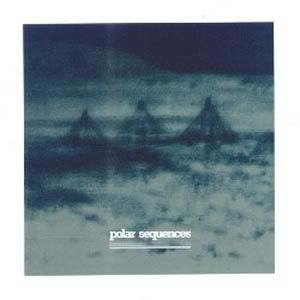 I remember the first time I saw the cover of this album. I was working in the processing room of the Virgin Megastore in Croydon, and
Polar Sequences
was in one of the boxes I was processing. I was instantly captivated by the blurred image of tents on the front, and loved the slightly reflective silver effect used to contrast with the darker tones. With no names on the front cover, I looked on the spine and decided to buy this straight away. The CD never made it to the shop floor.
This collaboration between Higher Intelligence Agency's Bobby Bird and Geir Jenssen was commissioned by Nor Concerts. The pair played live during the annual Polar Music Festival in Jenssen's hometown, Tromsö. The brief was simple: play a series of live performance at the top of a mountain, the venue only being accessible by cable car, and source all sounds from the local environment. The result is a truly fascinating and stunning piece of work, with deep emotional impact. It is my favourite ambient album. This version of the album has long been unavailable, but
Polar Frequencies
was re-released on Headphones in 2003 with identical tracklisting.
Their was a reciprocal collaboration recorded in Bird's hometown, Birmingham. The tracks were collected on
Birmingham Frequencies
(Headphones, 2000). Although this follow-up is equally as good, it lacks that little something that make
Polar Sequences
a complete masterpiece.
SPEEDY J - Ginger (Warp Records, 1993)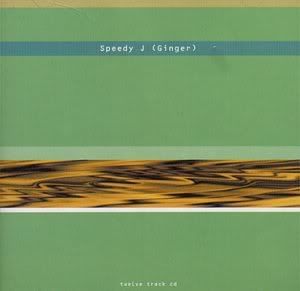 From the cover: "This is number 6 in a series of (Artificial Intelligence) albums from Warp." Need I say more?...
I first became aware of Speedy J with that annoying Pull Over tune of his. I hated it when it came out. I saw it as just another Belgian/Dutch hardcore techno waste of time, but then I began to find the tune rather interesting. I was still a bit surprise to see Jochem Paap ending up on Warp as it didn't really seem to fit in with the label, but this album was very much in the vein of the AI series, and remains a classic to this day. I was never so keen on its follow up,
G Spot
published a couple of years later. Interesting, but lacking the shine of this debut. Of course, Speedy J went on to release the mind-blowing and oppressive
Public Energy No. 1
(NovaMute, 1997) and the very good
A Shocking Hobby
(NovaMute, 2000) before returning to his club roots with the resolutely techno
Loudboxer
(NovaMute, 2002). I'd like to see Paap going back to more purely experimental grounds.
RICHARD H KIRK - Virtual State (Warp Records, 1993)
If there was an Electronic State, Richard H. Kirk would most definitely be head of State.
Prompted by the recent arrival of Kirk's EP for Dust Science (the truly excellent
Fear (No Evil)
, released 20/02), I was looking for my copy of the re-edition of Sandoz's magnificent
Digital Liforms
this morning but couldn't find it. I however came across a few RHK albums, including this one, one of two he did for Warp back in the early nineties. Although perhaps not my favourite Kirk release (I have a particular soft spot for
Digital Lifeforms
and
One Million & Three
, released under the name of Al Jabr), this remains a very interesting record.
More classics next week undoubtedly...