BIOSPHERE LIVE TONIGHT
Biosphere's Geir Jenssen
Tonight is the first date of Biosphere's weeklong UK tour of cinemas at the
Gate Cinema
in Notting Hill Gate, and I'll be there. I have promised I would especially re-open themilkfactory to add a review of the gig to the current edition, hopefully by tomorrow.
I've wanted to see Geir Jenssen live for a very long time, so there is a certain amount of excitement in me today… The man is considered as one of the pioneers of modern Ambient and one of the most influential musicians of his generation, with good reason. In the sixteen years that separate his first album, as Bleep (
The North Pole By Submarine
, SSR) to his most recent work (
Dropsonde
, Touch), Geir Jenssen has crafted an incredibly consistent and strong body of work, collaborated with the likes of Pete Namlook, Higher Intelligence Agency and fellow Norwegian Deathprod, worked on a couple of soundtracks, remixed anyone for Nicolette to Front Line Assembly and created various sound installations and performed live around the world.
I first encountered Geir when he was still a member of Norwegian electro-pop outfit Bel Canto, when they released their second album,
Birds Of Passage
, on Crammed in 1990. The band, who also counted vocalist Anneli Marian Drecker and multi-instrumentist Nils Johansen, had a little something of an electronic version of the Cocteau Twins. While
Birds Of Passage
was incorporating some elements of pop, their superb debut
White-Out Conditions
was a far more atmospheric affair and featured some early Biosphere textures.
I have actually been surprise to see Biosphere turn up on my top ten artists played almost every week on my Last.fm profile. The album that has had the biggest impact on me is
Substrata
(All Saints Records, 1997, re-released on Touch in 2001), closely followed by his first of two collaborations with Higher Intelligence Agency's Bobby Bird,
Polar Sequences
, (Beyond Records 1997, re-released on Headphones, 2004). Both albums make very good use of environmental found sounds.
Polar Sequences
was recorded live in 1995 at the Polar Music Festival in Jenssen's native town of Tromsø. the brief was that the concerts would take place at the top of a mountain in a venue only accessible via cable car, and all the compositions would be built from sounds recorded around the venue. This included anything from the cable car itself to snow melting. While Jenssen had already began to explore to possibilities of ambient, this approach appeared to shape
Substrata
too With its wonderfully rich and yet minimal soundscapes.
HIA & BIOSPHERE Polar Sequences (Beyond, 1997)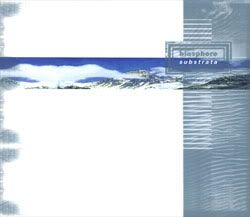 BIOSPHERE Substrata (All Saints Records, 1997)
Jenssen's most recent release,
Dropsonde
, marked a return to more beat-driven music, with a surprising jazz touch running through at least half of the tracks. The album was originally published as a six-track vinyl release before coming out as an eleven-track CD a few months later. Although five of the six tracks of the original release were featured on the CD,
Dropsonde
appeared as a very different album depending on the format, due to the particular selection of tracks.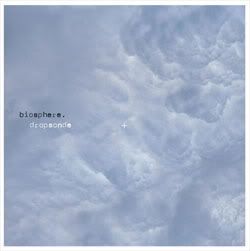 BIOSPHERE Dropsonde (LP) (Touch, 2005)
BIOSPHERE Dropsonde (CD) (Touch, 2006)
During this cinema tour, Jenssen is be playing live with accompanying full-screen visuals from multiple award-winning video artist Egbert Mittelstaedt. This is promising to be a very different series of gig...