I GET EXCITED (YOU GET EXCITED TOO)
I've had a bit of a Pet Shop Boys week ahead of the release of their ninth album proper,
Fundamental
, at the end of May. The week culminated with me working from home yesterday and listening to
Please
,
Behaviour
,
Very
and
Nightlife
in one go, and I am currently going through a few of the gems on
Alternative
(CD2).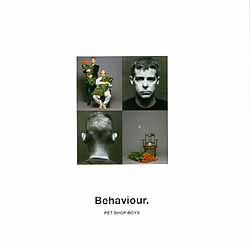 The fantastic Behaviour - does pop music get any classier than this (Parlophone, 1990)

B-Side collection Alternative (Parlophone, 1995)
I wasn't always a big fan of the Pet Shop Boys, although I was totally hooked by the beautiful and haunting
West End Girls
way back when it was released, and actually bought the LP version of
Please
back then, and still have it at my parents. I however didn't quite get the underlying wit and cleverness of their approach until a while later. While I was still buying some of the singles (I know I have the 7' version of
It's A Sin
), I only really
GOT
the Pet Shop Boys when
Discography
was released, and I realised that I'd been a total idiot. I then got
Disco
,
Actually
,
Introspective
and the absolutely pop-perfect
Behaviour
and I've been mad about their stuff ever since, with the exception I must add, of the God-damn piss-poor
Release
.
Notably though, some of their best tracks have never been released on albums, but as B-sides. Tracks such as
Paninaro
(
Suburbia
, 1986, consequently released as a single itself to promote
Alternative
),
I Want A Dog
(
Rent
, 1987, an extended version of which was consequently released as part of
Introspective
),
The Sound Of The Atom Splitting
(
Left To My Own Devices
, 1988),
Your Funny Uncle
(
It's Alright
, 1989),
Shameless
(
Go West
, 1993),
Too Many People
(
I Wouldn't Normally Do This Kind Of Thing
, 1993),
Some Speculation
(possibly my all-time favourite PSB track,
Yesterday When I Was Mad
, 1993),
The Truck Driver And His Mate
(
Before
, 1996),
The Boy Who Couldn't Keep His Clothes On
(
Red Letter Day
, 1997),
Sexy Northerner
(
Home And Dry
, 2002). These were, especially in the early years, acting as a lab for Neil Tennant and Chris Lowe to experiment with their sound, and missing on any of these is actually missing on about half of what gives this excellent pop band it edge.