ISAN: PLANS DRAWN IN PENCIL
So, Antony Ryan and Robin Saville are back as
Isan
with their sixth album proper,
Plans Drawn In Pencil
, released on 16 June on Berlin's
Morr Music
. Follow-up to their 2004 opus
Meet Next Life
(an album which I don't know well at all as it went missing almost just after I bought it. The CD turned up about a month ago at the bottom of a box, with the case materialising only a couple of weeks later - they have now been reunited, but I need to find time to play it now),
Plans Drawn In Pencil
was conceived, according to the press release, by the pair originally working each on their own, looking for sounds, and then together. Although I only know part of their work, this album seems very much in line with the rest of what I know of their releases -
Lucky Cat
(Morr Music, 2001),
Clockwork Menagerie
(Morr Music, 2002, and
Meet Next Life
(Morr Music, 2004).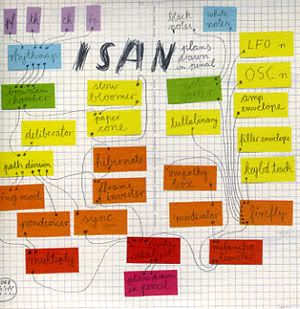 ISAN Plans Drawn In Pencil (Morr Music, rel. 16/06/2006)
Plans Drawn In Pencil
collects thirteen delicate electronic pieces built around subtle melodies. Although it is tempting to place Isan alongside Boards Of Canada, the sound developed by Isan is certainly not as openly flamboyant and rich. Instead, Ryan and Saville work and re-work deceptively simple melodic themes and apparently somewhat arid soundscapes, but there is another dimension to their music, which allows for the mind to wander freely, almost totally independently from the music itself. This has for effect that no track ever really stills the show for long, but it also means that the mood is very settled and peaceful all the way through. The notion of space is very important in their work, and
Plans Drawn In Pencil
certainly shows no signs of this changing. A reassuring sign!